IDEA Announces 2023 Board of Directors, Kulaszewicz Named Chair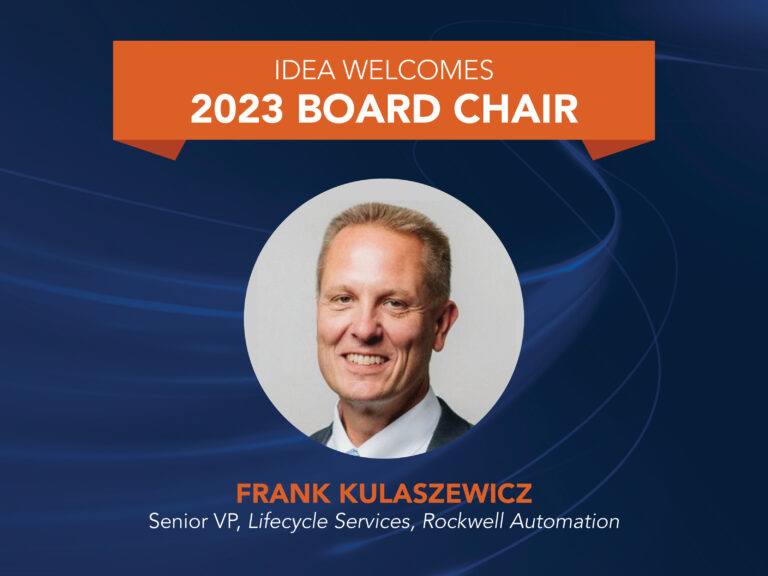 IDEA Board Focused on IDEA's Mission to Serve as a Single Source of Complete, High-Quality Transactional and E-Commerce Product Content
Arlington, VA – The Industry Data Exchange Association, Inc. (IDEA), the industry-owned technology company and leading provider of electrical product data, announces its 2023 Board of Directors.
Frank Kulaszewicz, Senior VP, Lifecycle Services at Rockwell Automation, is the IDEA Board Chair for the coming year.
"Frank's experience and guidance will be critical as IDEA develops the Harmonized Data Model (HDM) and develops partnerships to bring more value to the industry's product data," said David Oldfather, President & CEO of IDEA. "We appreciate Frank's leadership and Rockwell Automation's support as a long-time partner of IDEA and a driving force behind IDEA Connector's global data syndication."
In his 30+ years at Rockwell Automation, Kulaszewicz has held several key leadership roles in the Drive Systems, Standard Drives, Control & Visualization, and Architecture & Software businesses. He holds a Bachelor's in Electrical Engineering and Master's in Business Administration.
"As IDEA expands its pivotal role in meeting the evolving data needs of distributors and manufacturers, it's an exciting time to serve as Board chair," said Kulaszewicz. "IDEA's leadership and board is focused on executing its mission to serve as a single source of complete, high-quality, transactional and e-commerce product content."
Joining the IDEA board as Chair Elect is George Vorwick, President & CEO, United Electric Supply. A recent NAED board chair, Vorwick brings 30+ years sales and management experience in the electrical distribution industry. Since joining United Electric Supply in 2000, he has held several leadership positions to drive company growth.
The 2023 Board of Directors will continue to advise and guide IDEA's development of IDEA Connector and IDEA Exchange to maximize sales and ordering efficiencies in the channel.
Currently, 80 of the top 100 electrical distributors are customers of IDEA.*
IDEA's current initiatives include:
Harmonized Data Model (HDM) development—evolving the IDEA Connector data model to efficiently support multiple syndication formats—with the ability to transform from one format to another.
Data quality roadmap to help manufacturers prioritize where and when to make data improvements so product data is clean, enriched, and useful for distributors.
Enabling distributors and manufacturers to do more with IDEA's product data, including rebate management, weights and dimensional data, real-time order tracking, and e-commerce website auditing.
The 2023 IDEA Board of Directors and Officers
Frank Kulaszewicz, IDEA Chair, Senior Vice President, Lifecycle Services, Rockwell Automation
George Vorwick, IDEA Chair Elect, President & CEO, United Electric Supply
Larry Stern, IDEA Past Chair, President, Standard Electric Supply
Brian DiBella, IDEA Treasurer, President, Data, Power & Control, Legrand North America
Phil Hale, IDEA Secretary, Chief Information Officer, Elliott Electric Supply
Mary Derrick, Board Officer, Vice President, Channel Strategy & Digital Enablement, Schneider Electric
Paul McCool, Board Officer, President & CEO, Revere Electric Supply
Bill Waltz, Board Officer, President & CEO, Atkore International
MORE INFORMATION
To learn more about IDEA's services, contact IDEA or call (866) 479-0484.
*Source: Electrical Wholesaling's 2022 Top 150.
ABOUT IDEA
The Industry Data Exchange Association, Inc. (IDEA) is the electrical industry-endorsed provider of data syndication, management, automation, and standards. IDEA helps hundreds of manufacturers and distributors digitally syndicate product content internationally, exchange Electronic Data Interchange (EDI) documents, and extend their teams for data management, cleansing, and enrichment. IDEA was founded in 1998 by the National Electrical Manufacturers Association (NEMA) and the National Association of Electrical Distributors (NAED). Through its flagship services—IDEA Connector and IDEA Exchange—as well as a growing ecosystem of related services, IDEA is continuing to add value for the electrical, HVAC, plumbing, and additional industrial verticals and trading partners. Visit IDEA at idea4industry.com.
MEDIA CONTACTS